Welcome to the Nisswa Chamber of Commerce
The Nisswa Chamber of Commerce serves the area as a strong non-profit professional organization whose mission is to promote our businesses, community, and quality of life. The vision of the Nisswa Chamber of Commerce is to promote the Nisswa area community as the preeminent destination to live, visit, work, and play in the Lakes Area.
Pretty Good Shopping!
The downtown shopping in Nisswa is much more than pretty good... it's downright awesome! The downtown boasts over 50 retail and restaurant storefronts. With quaint shops, spots to grab sweet treats, breakfast, lunch, dinner or a great cup of coffee - you'll find that downtown Nisswa has everything you'll need!
Show the world your Nisswa pride with this soft, luxurious t-shirt!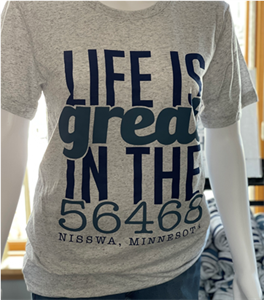 Whether you are visiting for a day, a weekend, a week or longer, you are sure to find something to love about Nisswa!
Thanks to WCCO (our Minneapolis CBS Affiliate),  Nisswa was chosen as the Best Small Town in Minnesota.
Read More